In August of 2002, our class came together for a reunion. Yes, it was the 30th reunion of the class of '72. Can you believe it has been that long since we all were walking the great halls of CHS? Well, okay, so maybe they do not seem like great halls now, but I am sure back then, to at least one or two of us, they seemed like they were endless.
We didn't know what would become of us, but looking over the class pictures, it seems we were all successful. We might not have taken the direction that we wanted to go, but we did go, and the direction we took has made us what and who we are today. I have had the honor of meeting those who attended this year's reunion. I hope to meet more during the next one.
---
Below is a picture of some of those who attended the 30th reunion of the Class of '72. Are you there, and if not, would you like to be included in the 40th?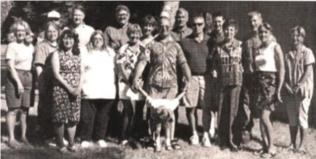 *Click the picture to enlarge.*